The goal of each Larry H. Miller dealership is to be the best place in town to work and the best place in town to do business. Larry Miller Dodge does a uniquely excellent job with this goal, having served the needs of the Peoria, Glendale, and Phoenix communities for years. There's a reason why our customers recognize and trust us—our work speaks for itself.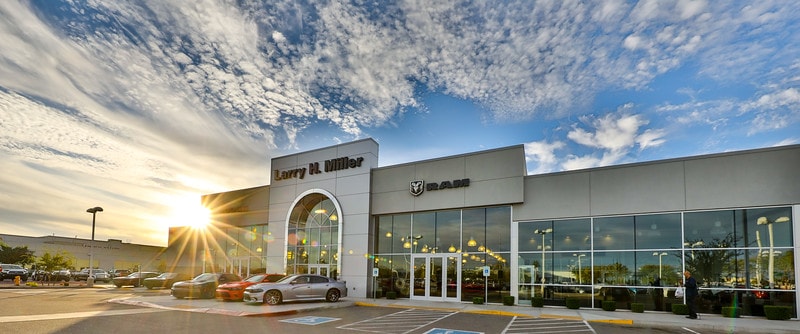 Larry Miller Dodge is more than a dealership; it's an important part of the community. While we provide our customers with vehicles to purchase, that's not necessarily the way we look at it. We're actually opening opportunities for our customers to better their credit through financing. We provide them with ways to safely transport their children to school. We offer them options to get to work or even use that vehicle for the purpose of working. This isn't just a car dealership—this is a place of opportunity.
Our staff specializes in all things Dodge and RAM; these are the experts you want handing you the keys to your new vehicle. Many of them grew up in this area. They know the special challenge of Arizona driving and commuting, making them uniquely qualified to help you get the car that will best serve your needs. They're happy to discuss your specific needs with you, whether you're ready to buy your first car, looking to trade in an existing vehicle, or merely seeking some routine maintenance. Every automotive need you can think of can be handled by the trained professionals at Larry Miller Dodge.
Our name is known in the community as a name you can trust. Let us prove that to you when you come in for a new or used vehicle or service. You'll be greeted with a friendly smile and cheerful employees as soon as you walk through our doors. Our facilities are clean, open, and comfortable to conduct business in. You can also enjoy our refreshments as you wait for service! Come see us at our Bell Road location and experience the Larry Miller difference in person.