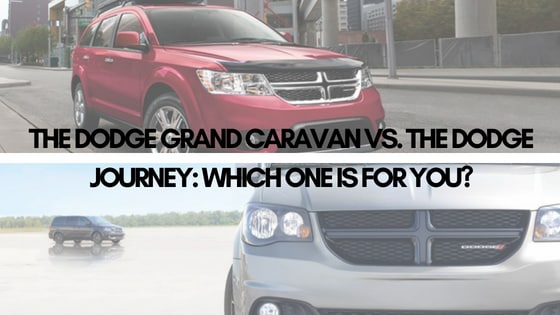 Most people tend to classify SUVs and minivans as the same type of car. While they can each comfortably carry a very respectable amount of people, there are distinct variations in the details. We've created a quick guide to deciding which Dodge model best suits your needs—you're welcome!
The Grand Caravan is Dodge's ode to minivans, and it's a great one at that. It's spacious, able to hold seven to eight people within the comfortable confines of its standard three rows of seating. This is a striking difference from the Journey, which has two seats. A smaller model than the Grand Caravan, this SUV has a 2.4L I4 engine that comes standard. An available upgrade is a 3.6L V6 engine, the same one found in Dodge's fabulous minivan. The moral of this story—both models pack a serious punch with their engine strength and seating potential.
Both models are packed with the technology that you love. The Journey has a 4.3-inch touchscreen display front and center—perfect for entertaining driver and passenger alike! The Grand Caravan has a larger display, measuring in at about 6.5 inches for maximum entertainment! Both the SUV and minivan have plenty of speakers on board so that you can listen to your favorite music and podcasts on your way to work or school. They also have Dodge's finest safety features, keeping everyone in the car safe and sound at all times.
Both the Journey and the Grand Caravan are sublime models—you can't go wrong with either! The main difference is the size and corresponding features in accordance with the vehicle's size, but that just makes it easy to decide which one works better for your family. Stop by our dealership on Bell Road to take a closer look at each model and see which wheel you feel more comfortable behind. Our team will be more than happy to help you decide between the minivan and the SUV—happy car shopping!