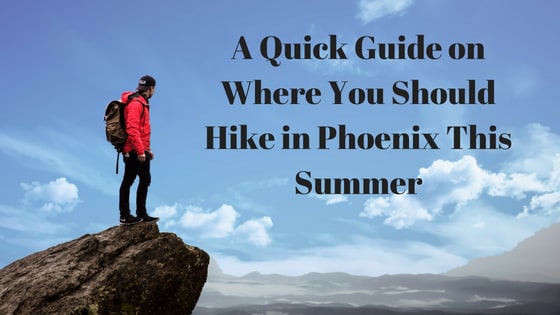 Did you know Phoenix was rated by National Geographic as one of the best hiking cities in America? The Arizona Foothills Magazine reports that there are dozens of fabulous trails for hikers of every age and ability. We've summarized a few of these feature trails to make it easy for you to select your summer adventure—just be sure to bring plenty of water and avoid going when the sun is at its peak!
· For all of you collegiate youngsters, Papago Park offers unparalleled views of the Tempe area. According to Arizona Foothills Magazine, there are four easy trails that area easily hike-able by families, bikers, and adventurers of all abilities. The park also boasts several recreation facilities so that you can hike in the morning, play a game of softball, and finish the day by fishing when the sun goes down.
· Tom's Thumb (the North side) is also among the recommended adventures. It's 3.7 miles round trip, a "healthy stretch of the legs," as John Wayne said in The Quiet Man. It features breathtaking views of Tom's thumb, which is the stone landmark in McDowell's Preserve. You can also take in stunning views of the Phoenix area—perfect for an outdoor date night!
· If you're looking for a little change in scenery, try hiking the Phoenix Sonoran Preserve. It's relatively newer to the preserve and features greener scenery due to its higher elevation and rainfall. You're also able to mountain bike over its "professionally-built trails."
· You can take in the night Arizona night sky on Pinnacle Peak! This smooth trail is teeming with indigenous wildlife and is home to many astronomy talks and events at night. This is perfect for an off-the-beaten-path summer activity to do with the family! Bring your telescope and be sure to look out for Gila monsters!
Any of these hikes are sure to create a fabulous summer memory for years to come. To help facilitate said memory-making, let us provide you with the perfect truck with which to brave the trails. Stop by our dealership off Bell Road and see how you feel behind the wheel of a RAM 1500.