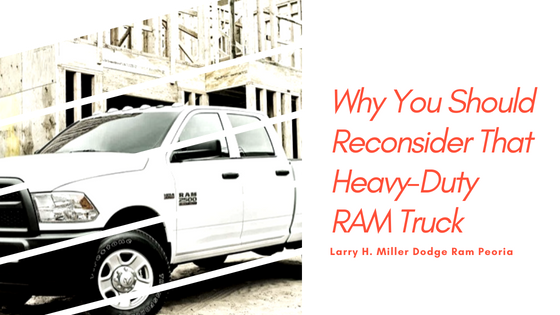 There are kids and there are adults. There are boys and there are men. There are trucks and there are RAM trucks. Do you see a pattern here? RAM trucks are not meant for the faint of heart—these are durable, powerful vehicles that can tackle any task or terrain they may face. However, we're turning the heat up even more—say hello to the Heavy-Duty class. These are the vehicles chosen for the strongest tasks by real professionals all over Arizona. If you've had your eye on one but haven't quite been able to commit, we have a few reasons why you should take the plunge.
They're incredibly powerful. The name "Heavy Duty" should be a clear clue as to what kind of loads this vehicle can bear. The 2500 comes standard with a 5.7L V8 HEMIⓇ VVT engine under its hood. Are you drooling yet? It also has available 6.4L Heavy Duty V8 HEMIⓇ and 6.4L I6 CumminsⓇ Turbo Diesel engine options for the savviest and strongest of truckers. These bad boys have a towing capacity of about 17,980 pounds and have a maximum whopping 410 horsepower! Your neighbors, coworkers, and frankly anyone with good taste will turn their heads to watch you drive it.
The interior is insanely nice. Have you ever seen the inside of a 2500 model? You honestly might forget you're not in a luxury vehicle. This impressive model has available leather seats with special branding, all the storage you could want, and technological advances that would make a computer scientist weep for joy. You'll love driving down the highway while your UconnectⓇ system guides you toward your destination, playing your favorite music from a complimentary Sirius one-year subscription. Since you work hard, RAM wanted to make sure your vehicle rewarded you for it, and boy did they ever.
Swing by our dealership on Bell Road for a closer inspection of these mammoth beauties. From the moment you grab the wheel of one of these bad boys, you'll know you found something truly special. Test drive a 2500 or 3500 and decide for yourself which one earns a permanent spot in your driveway.