STRONGEST MUSCLE IN AMERICA (Orders Open June 21st, 2017)
The Demon exemplifies the very finest of what the Dodge SRT brands stand for. The New Dodge Demon is built to decimate the streets. Demon, a beast unlike any known to man! Fastest production car from 0-100 mph. Demon boasts 840 horsepower from a supercharged 6.2L HEMI ® V8 that that is built to be an elite performance machine. RACE READY! Every feature was chosen to optimize the drag strip performance; it was designed with racers in mind. Crushing the competition, Highest Horsepower of any production car, Highest G-Force by any production car, First Wheelie by a production car, World's Fastest 0-60 production car, and World's Fastest 1/4 Mile production car.

The Demon will make its presence known and not just with car enthusiasts. The production of Demons will be extremely limited and only 3,000 Demons will be available for the U.S. market.  The form below awaits you! Interested? We need to talk!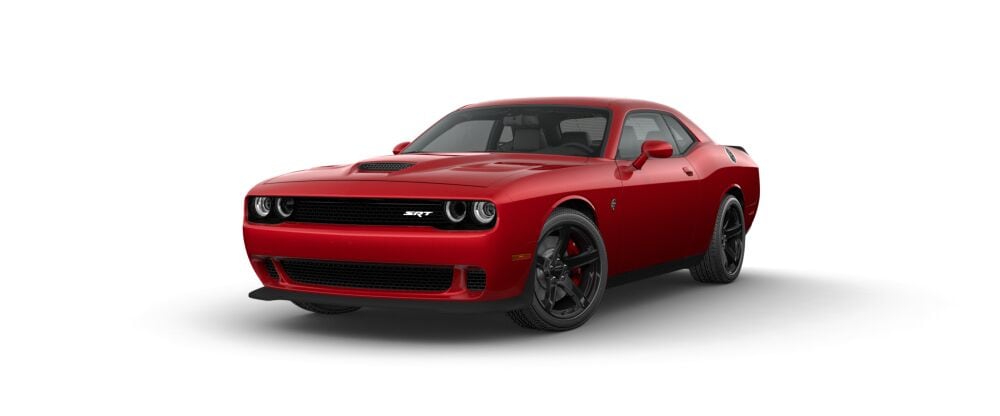 NEW DODGE CHALLENGER SRT® DEMON

840 HP Supercharged Hemi® V8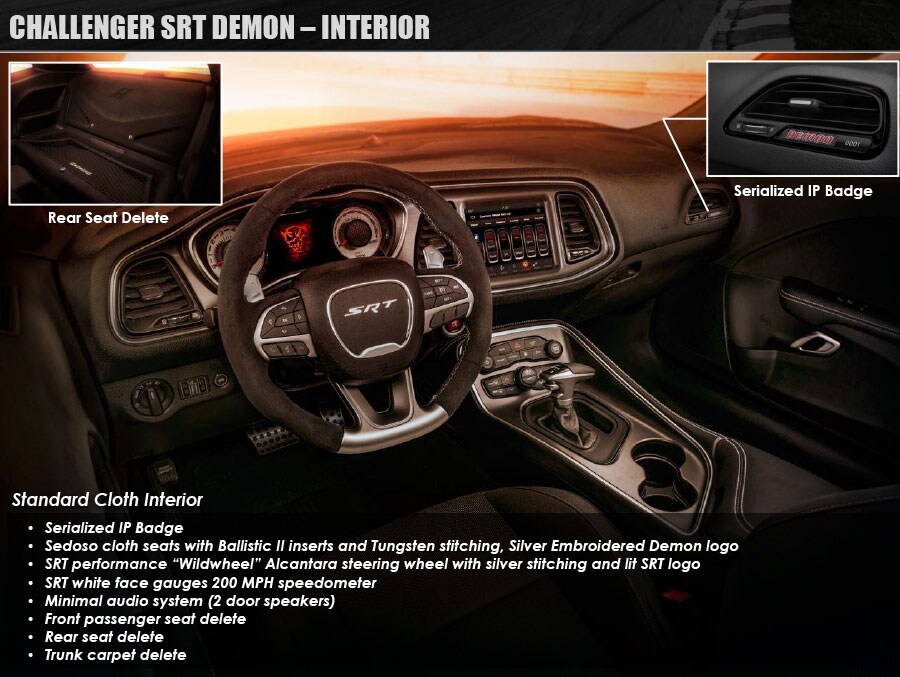 CHALLENGER SRT DEMON HIGHTLIGHTS
World's Fastest ¼ Mile Production Vehicle
World's Fastest 0-60 MPH Production Vehicle
World's Fastest 0-100 MPH Production Vehicle
World's First Production with Front Wheel Lift
Highest G-Force Launch of Any Production Car
World's Most Powerful Production V8 Engine with 840 HP
FIRST EVER, FACTORY PRODUCTION CAR WITH:
Drag Mode – Retuned suspension for weight transfer
TransBrake – Increased torque in the rear tires during launch
Torque Reserve – State-of-the-art launch acceleration
Launch Assist – Mitigates tire stick/slip at launch
SRT Power chillerTM and After-run cooling
Nitto street-legal 'Demon' branded drag tires - 315/40R18
PURPOSE BUILT FOR THE STREET AND THE STRIP
Wide body design – Front and rear fender flares
18x11-inch drag aluminum wheels
Air-Grabber Hood and intake system
Line Lock – Allows for smokey burnouts at the touch of the button
NEW SRT Performance Pages with real-time dyno, race cool down and G- force graphs
Reduced weight for the strip ~200 lbs
NEW lightweight Brembo 4-piston front brakes
Lightweight hollow front and rear sway bars
Minimal audio system – 2 door speakers without amplifier
Front passenger and rear seat delete
AVAILABLE DEMON CRATE WITH DIRECT CONNECTION PERFORMANCE PARTS
High Octane Engine Calibrations
Front Runner Drag Wheels
Performance Air Filter
Track tools and Demon Track Pack System
Personalize, Serialized Instrument Panel Badge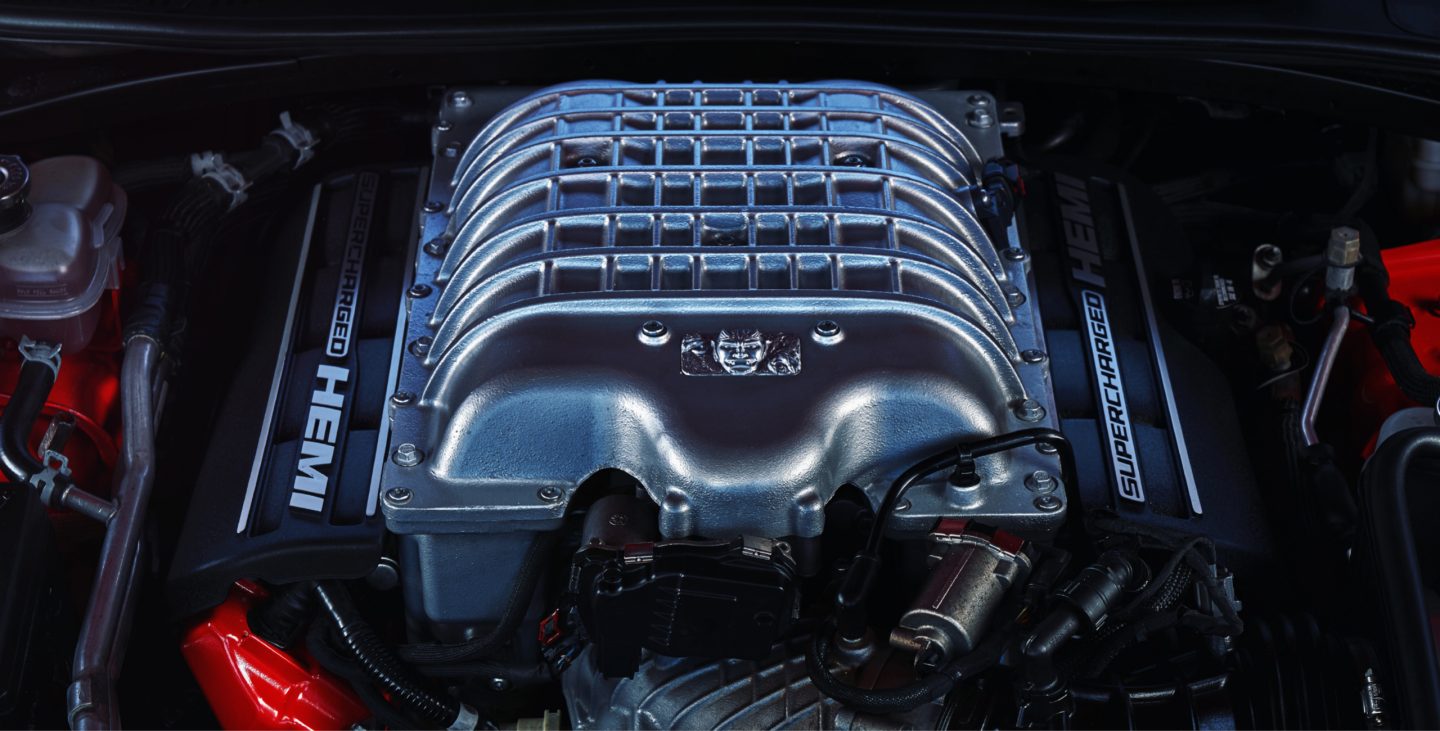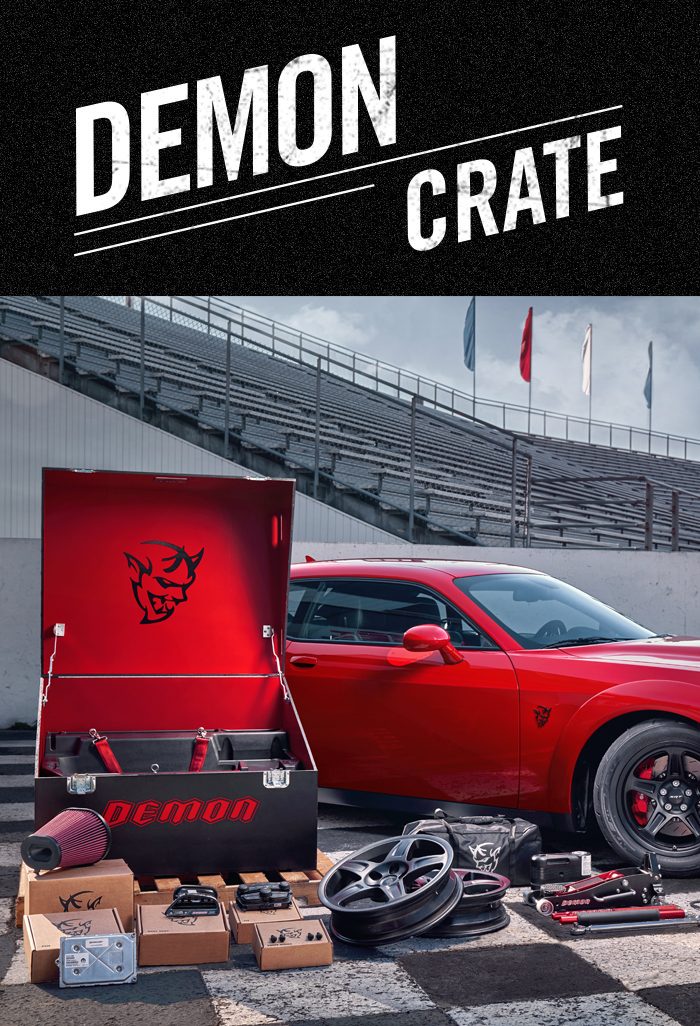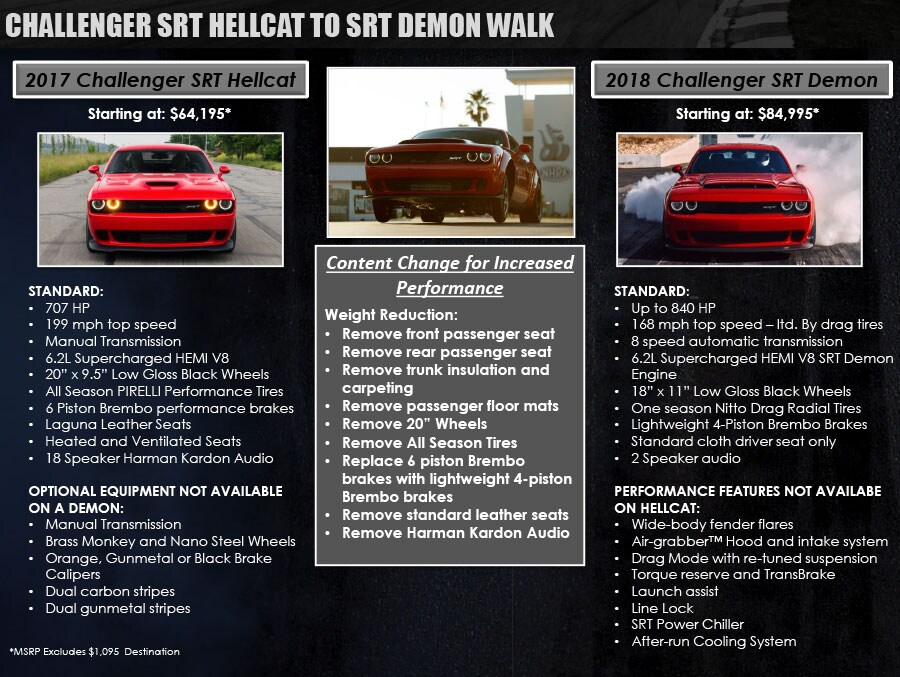 Hours to Pre-Order the Demon
Monday

08:00AM - 08:00PM

Tuesday

08:00AM - 08:00PM

Wednesday

08:00AM - 08:00PM

Thursday

08:00AM - 08:00PM

Friday

08:00AM - 08:00PM

Saturday

08:00AM - 07:00PM

Sunday

10:00AM - 05:00PM
Contact Us About the DEMON