Find Affordable Tires and Fast Tire Installation Service in Peoria, AZ
Larry H. Miller Dodge RAM Peoria is the place to be for quality tire sales, service, and installation in Peoria AZ. We stock a high-quality collection of new car, truck, van, and SUV tires at affordable prices, including America's favorite tire makers. Whether you need all-terrain tires for your RAM 1500, performance tires for your Dodge Challenger, or all-season tires for your Dodge Grand Caravan, we have you covered here.
When Do I Need New Tires for my Dodge RAM Vehicle?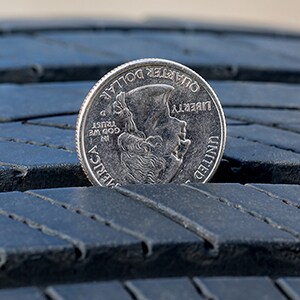 You should replace your tires once they've worn to less than 4/32" of tread depth, are six years old or older, or have uneven wear or damage. An easy method to check your tire tread level is with a regular quarter. Just place a quarter head down in your tires' grooves, checking the distance between the top of Washington's head and the edge of the tire tread. If there's a gap between Washington's head and the tread, you're ready for new tires!
Why Do I Need New Dodge RAM Tires?
When your tires are worn out, damaged, or unevenly worn, they don't work at their best. You'll have less grip while maneuvering and acceleration, and your vehicle will take longer to brake, especially if the road is wet. Extremely worn tires can even fail while you're driving, leaving you stranded on the side of the road.
If your tires are old, they can become "sun rotted." Years in the Arizona desert can weaken the rubber of your tires, even if you have plenty of tread left. If you notice cracking in your tires' sidewalls, it could be time for new tires. It's best to replace all your tires at once to ensure that you get optimal road performance, efficiency, and handling.
Hours
Monday

07:00AM - 06:00PM

Tuesday

07:00AM - 06:00PM

Wednesday

07:00AM - 06:00PM

Thursday

07:00AM - 06:00PM

Friday

07:00AM - 06:00PM

Saturday

07:00AM - 04:00PM

Sunday

Closed
We're sorry, we do not currently have any specials published. Please check back soon or contact us for more information.